For quite some time Azure Analysis Services (AAS) was the most dominant kid on the block when it comes to providing flexible data models that were fast. But Microsoft has been investing a lot in it's Power Platform and I thought is was time to compare the two.
Recap of what we know
Now Microsoft did a very good job in describing what AAS is, what Power BI Premium is and what they both have to offer. But in short:
"Power BI Premium is a hosted service (SaaS) that allows you to host datasets and share Power BI reports and dashboards with anyone in your organization without requiring recipients to be individually licensed. Power BI Premium provides dedicated hardware and capacity hosted by Microsoft for reliable and consistent performance. This dedicated capacity can be scaled up or down according to your business needs. In addition to datasets, Power BI Premium includes several other workloads including dataflows, paginated reports, and AI. Analysis Services is the engine powering the datasets workload.
Analysis Services tabular models can be created and deployed in Azure Analysis Services. With Azure Analysis Services, almost all tabular models can be moved into Azure with few, if any, changes. There are multiple deployment options and service tiers within each option that you can tailor to meet your requirements. In less than a minute, you can configure the service tier you require in the Azure Portal. Note that multi-dimensional models are not yet supported in Azure Analysis Services."
Of course there is an extensive blog post by Principle Program Manager Richard Tkachuk on this. But that has been published in 2019 (and was already highlighted somewhat in a previous post). And the main take away at that time was:
"First, there are a few capabilities where Azure Analysis Services satisfies requirements not yet generally available (GA) in Power BI Premium. If you require very large datasets or query scale out today, Azure Analysis Services might be your preferred solution. However, these features will soon be matched or exceeded in Power BI Premium.
Second, Power BI Premium is the enterprise platform for modern enterprise cloud BI applications. Analysis Services is the engine powering this platform. While Power BI Premium has (and will continue to have) additional capabilities for performance, scale, and management, the engine itself may satisfy your needs. Both are excellent and the choice between the two options is dependent on your business requirements."
So which is better?
Since then we've seen a consistent stream of updates. And some cool new features being added to Power BI Premium. Some of which look like to be exclusive to the Power Platform (so AAS will not support them). I've googled far and wide and couldn't find a more up to date comparison table than this:
| | | |
| --- | --- | --- |
| | Power BI Premium | Azure Analysis Services |
| Unlimited Power BI content viewing | Yes | No |
| Paginated Reports | Yes | No |
| Dataflows | Yes | No |
| AI Workload | Yes | No |
| Multi-model memory management | Yes | No |
| Pre-Aggregated tables | Yes | No |
| Composite models | Yes | No |
| Automated incremental refresh | Yes | No |
| Large datasets | Yes (in preview) | Yes |
| Third party application support | Yes | Yes |
| Bring Your Own Key (for encryption) | Yes (in preview) | No |
| Scale out | Not yet | Yes |
| Metadata Translations | Not yet | Yes |
| Object Level Security | Not yet | Yes |
| Perspectives | Not yet | Yes |
Microsoft blog post of November 2019
From this table overview alone, it looks like Power BI Premium has so many features that AAS doesn't have that you shouldn't even bother looking at it. But there is a reason why AAS has been dominating BI for some time and why people still doubt wether to switch or not despite it's impressive feature list.
So actually deciding just purely on specs, capabilities and costs is going to be tricky. So I decided to come up with a case study to better understand what your options are. Yes, It's going to be in a different post. Reason primarily being that otherwise this blog post will be very long and, no body got time for that.
But I won't let you finish reading this blog completely without any form of guidance.
A simple yes/no
The first yes/no decision making tool I'm leaving you is this little gem. Although it might be a bit outdated, it's quick and will give you a rough idea on what technology could work for you.
Here's a similar yes/no decision chart to help you make a decision when it comes to what you need and what your budget allows you to get.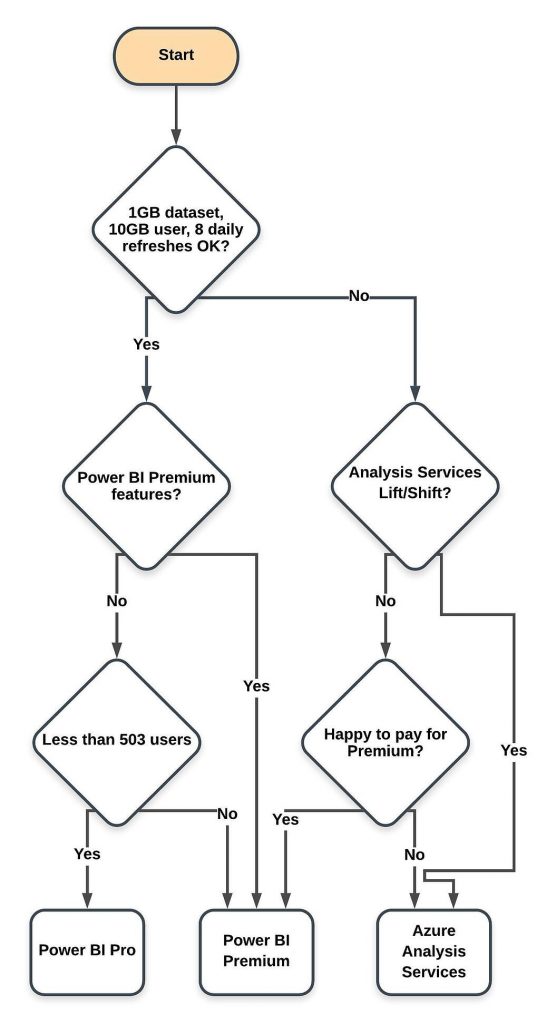 Give credit where credit is due
A special thanks to Dave Ruijter for the featured image of this post and the cool yes/no decision help, which is made with Power BI.
Also a thank you to Ceoe for the cost yes/no diagram.
Also quoted text is from Microsoft's own blog about this topic.